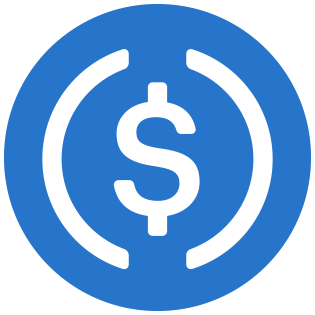 USD Coin
USDC
Current market value:
$54.23B
Low:
$0.98793898
High:
$1.0143
Market Cap
$54,233,467,791.23
Volume(24H)
$2,095,186,188.22
Circulating Supply
54,228,143,362 USDC
120.5%
Max Supply
55,254,358,005 USDC
Total Supply
45,011,877,704 USDC

Key Point
Published by BitMain, Goldman Sachs group, IDG, CICC, Everbright, Baidu and other Circle investors, THE USDC is a fully collateralized DOLLAR stablecoin. Grant Thornton, a professional services firm, will publicly report the financials of the Circe-issued USDC on a monthly basis. Circle, the issuing company behind USDC, currently owns payment licenses in every state except Hawaii in the United States, the United Kingdom and the European Union, as well as BitLicense in New York State. It is the company with the largest number of licenses in the crypto asset industry in the world, and has a compliant access for entering and leaving crypto assets in DOLLARS, pounds and euros.
THE USDC is also the Centre's first stablecoin open source project, issued by regulated and licensed financial institutions that maintain full reserves of fiat currency equivalents. With the addition of other fiat currencies, USDC creates possibilities for payment, lending, investment, trade and financing. In addition to normal payment transactions, USDC tokens can also be used for smart contracts, thus enabling DApps to support a class of "fiat currencies".
The USDC operates within the regulatory framework of the United States Currency Circulation Statute and is based on an open membership system that any eligible financial institution can join. By providing a solution with detailed financial and operational transparency, the USDC addresses the existing cryptocurrency market. The USDC is a dollar-anchored staboin developed by Circle based on the CENTRE architecture and regulated by the CENTRE's set of policies. USDC is linked to USD 1:1. For every USDC purchased by the user, Circle will deposit 1 USD to the designated bank (Silvergate Bank) and send the forged USDC to the user.
USDC Coin addresses these issues by providing solutions with detailed financial and operational transparency, operates within the regulatory framework of THE US Money Transfer Regulations, works with established banking partners and auditors, and is built on an open membership program that eligible financial institutions can participate in. In addition, the USDC has become the only stablecoin supported by the US Coinbase exchange. Compared with the USDT, the USDC is more transparent. < P > USDC has been accepted by various cryptocurrency exchanges, including OKEx, Coinbase, Binance, Poloniex. Trading pairs include USDT, BTC, ETH, ZEC, LTC, BAT, etc. Usdcs are worth more than $150 million each day. In addition, Wu jihan's MatrixPort asset management and lending platform has also supported USDC from the very beginning.
USDCS can be stored in your Coinbase or Circle wallet, It is also supported by Freewallet, CoolWallet S, and any other third-party hardware and software cryptowallets (such as Trust Wallet and Atomic Wallet) that support ERC-20 tokens. For domestic users, you can use imtoken or special to store the USDC.